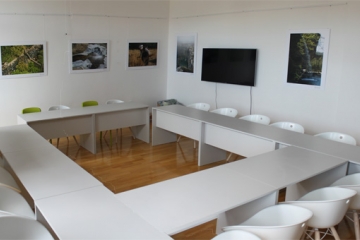 The reservation of the Science and education center Speleo House programs and access to the available dates is enabled by the system of online booking available via this network's website (www.speleo-house.eu/en/contact), and on the same page you can find more information about additional activities such as visits to the karst presentation area on the ground floor of the Centre, arranged and marked hiking trails in the area of the Centre and the children's playground designed around the theme of karst.
If you are interested in using the facility through programs offered by Natura Histrica, your stay would be enriched by providing a professionally guided tour of the karst presentation area on the ground floor or by organizing walks along the marked hiking trails around the facility. These services will be provided by the professional service of the public institution for management of protected natural areas of the Istria County – Natura Histrica.
To those interested in using the Science and education center Speleo House the public institution Natura Histrica is authorized to allow its use for the purpose of conducting programs related to:
- engagement in the project of managing and directing younger population to carry out activities in the border area,
- operation of scientists and scientific expeditions of Croatian and foreign experts, with the aim of spreading scientific knowledge,
- organization of expert meetings and conferences,
- inclusion of faculties, schools and kindergartens with the aim of organizing classes in nature,
- developing educational and environmental programs with the aim of developing new eco-tourism offer in Istria (possibility of team building activities),
- connecting the residents of the border region of Italy, Slovenia and Croatia.
Interested users will be able to use the building only on condition that all data acquired in the research and work, are provided to the Science and education center Speleo House for further use.
The Science and education center Speleo House is the result of the implementation of a number of cross-border projects funded from available EU funds. The plan of all involved institutions for the Center is a further development of new project ideas with current partners but also new interested parties. For these reasons we invite all interested parties to contact us with their ideas of new projects and the joint nomination of the same for the available EU funding and other sources of funding.
After approval of the proposed term and program, future users of the facility will sign the 'Agreement on mutual rights and obligations of using a part of the building', which will soon be available here for preview.
Documents
Ugovor s korisnicima
Back