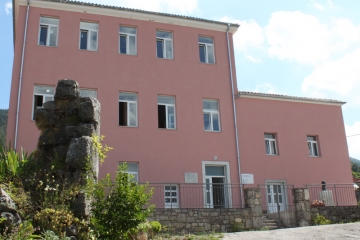 The facility is located in the center of the Istrian karst just six kilometres away from the Slovenian border, in an area that is sparsely populated and developed, but surrounded by pristine nature.
The total area of ​​390 m2 (two floors of school) is fully equipped with the necessary furniture and other technical and laboratory equipment ensuring the possibility of an extended stay of a large number of people (20 beds) and their work in the Science and education center Speleo House, which meets the needs of all identified stakeholders - research groups, universities, non-governmental associations and organizations, and educational institutions such as kindergartens, primary and secondary schools.
Available technical equipment enables the organization and implementation of conferences, seminars, workshops and other events in the school, as well as the scientific work of student or school groups who will be accommodated in the house. Laboratory equipment (microscope, magnifying glass and related accessories) is intended for scientists, but also groups of students of natural sciences for their education during field work.
The ground floor provides the possibility of washing and storing the equipment after arriving from the field (there is a lockable area for the storage of the equipment). On the first floor there are operating rooms, laboratory and a conference room that ensure optimal working environment for a large number of people as well as holding workshops, seminars and lectures. There is also a very nicely decorated dining room with a kitchenette.
The second floor hosts the sleeping area - four rooms with bunk beds and wardrobes. The provision of adequate amenities for a longer stay is necessary for the intended use of the Speleo House because field research cannot be carried out in one day, and certainly not in the case of foreign expeditions coming from distant countries. Also, the faculties are planning multi-day field studies in groups of 20 students under the guidance of teachers and assistants.
The purpose of the Science and education center Speleo House is to design a meaningful use of the facility and thus contribute to the development of science, attract scientists and young people to the poorly developed and uninhabited area of Ćićarija, and stimulate the development of the region and a greater recognition of the outstanding natural value of the karst area!
Documents
Plakat Speleo kuća - pdf format
Letak (en) - pdf format
Letak (hr) - pdf format
Letak (sl) - pdf format