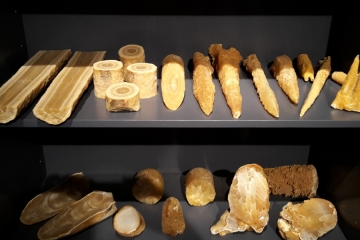 The newly opened room on the ground floor of the Science and education center Speleo House hosts a presentation area – a karst museum.
Its main purpose is scientific and educational enrichment of the offer of the Science and education center Speleo House.
The permanent exhibition of the presentation area comprises various elements that introduce visitors to the basics of geomorphology and importance of karst.
The most important speleological sites of northern Istria are presented in 50 photographs redeemed during the EU project 'KUP' (Karst Underground Protection).
In this karst museum, visitors can see dozens of stalactites and stalagmites, and get acquainted with the richness and diversity of cave formations.
The configuration of the caves is presented on interesting info-sculptures of their sections that show the length and shape of these underground sites.
Part of the permanent exhibition is a simulation of the colony of bats on the ceiling and complete caving equipment needed for research and exploring the underground.
The special atmosphere is enhanced by an interesting projection on the walls of the separate room that shows the interior of the significant speleological sites in the karst of this region.
The area is furnished and equipped in 2015 within the framework of the EU project "ŽIVO! - Život – Voda!" with the financial support from the European Regional Development Fund through the Operational Programme Slovenia - Croatia 2007- 2013.