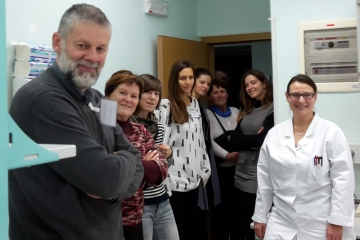 The aim and purpose of the Science and education center Speleo House in Vodice in the Lanišće Municipality is ensuring the sustainability of the conceived concept of interdisciplinary work between several scientific and professional institutions at the international level.
Directing various institutions and associations dealing with karst, environmental protection, and other social and socio-economic , to the border region of northern Istria, is considered the greatest success among the projects implemented so far and the foundation for further work of the Science and education Center Speleo House.
Three floors of the old village school, covering a total of 390 m2, were restored and furnished to create the seat of future projects and ideas in the field of karst protection as well as environmental protection in general. The Center is intentionally located away from large urban centres and bigger towns, but offers the possibility of accommodation and all necessary technical conditions for several days use by future users (from scientists, environmental experts and other profiles, various educational groups to participants of the team building program).In this case the isolation, along with the possibility of using modern technology, is a winning combination or a guarantee of a productive, creative and uninterrupted work.
The goal of the Science and education center Speleo House is gaining new scientific knowledge by providing a venue and equipment to various scientific and other groups with the ability to multi-day stay and work in the facility.
We welcome any suggestion for the development of new projects with existing and new partner and associate institutions, with the aim of improving the quality of life in the border region.
Please contact us if there is interest in the use of our facilities or if you have some ideas about the possibility of working together on some new projects with scientific or other professional content.